Children's Ministry
Children's Ministry


Purpose
CenterPoint's children's ministry program, Adventure Kids, is designed to help children know more about God, grow in His Word, and go and show God's love to others in their world.
Security
All children are checked in through our computer system and must wear a name tag during class. Parents are required to show their pickup tag at the time of check-out.
Background checks are required of all of our teachers and helpers.
Ages 0-4
Infants and toddlers (ages 0-3) are introduced to faith and the love of God through play, music, and movement. "Cuddle Cards" are provided weekly for families to reinforce the same concepts at home that are introduced in the classroom.
Ages K-5th grade (9:00 service)
KidzLife is a disciple-making program designed to challenge your child to develop consistent habits of reading God's Word, prayer, scripture memory, and growing deeper in their relationship with Him. See more information below.
Ages 3 - 5th grade (10:45 service)
Answers Bible Curriculum (age 3 through 5th grade) takes students on an exciting chronological journey through the Bible with a focus on apologetics and life application. All ages are equipped to defend their faith, becoming conformed to the image of Christ as they learn to apply God's Word in their everyday lives.
Worship
KidsWorship is an opportunity to participate in a time of singing, prayer, and offering for kids PreK through 5th grade. This targeted time of worship is designed to help children grow in their understanding of how to worship God and provides a transition from the first service to the second service.
━━━━━━━
Sunday Morning Schedule
9:00 Service:
Nursery for 0-4
KidzLife for K-5th grade - Children who are registered for KidzLife start out the morning by sitting with their parents for the worship time and then are dismissed to their class. Those not registered continue to stay with their parents for the worship service. New attendees are welcome to check out our KidzLife program for the first time. You can tap the image below to register.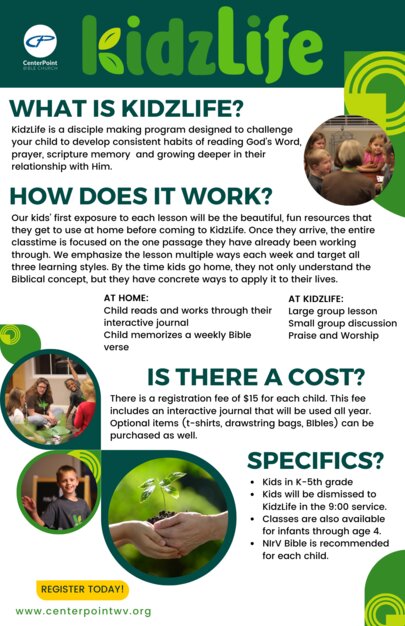 10:25-10:40:
Nursery for 0-3
KidsWorship for PreK-5th
10:45 Service:
Classes for 0-5th grade
━━━━━━━
Volunteering
All of our adult volunteers are required to have a criminal background check completed to serve in our children's classes. Opportunities are available to serve in various roles. If you are interested in serving on our team, please contact Amy Keppley below for more information.